Don't Give Up Your Day Job - but do plan B on the side
Well I've half escaped!  For a few years now I have been working part-time as an IT consultant while I follow my passion for coaching and personal development.
I have the benefit of a good income stream from my IT work and enough time to follow my passions and get some time to follow my own creative pursuits.
How I can help Esc members
My book, Don't Give Up Your Day Job (Practical ways to lead a fulfilling life and still pay the mortgage), may be relevant to a lot of people on this site, particularly if you are risk adverse and don't want to jack your job in straightaway.  I'm a big fan of developing plan B on the side of your day job and the book will give you ideas on how to do that.

The blog at my website www.leadthelife.net also has some good articles about time management, beating procrastination and getting started on taking action towards your dreams.  You can also follow me on Twitter - I'm @calibird.  
Currently...
Currently I do a mixture of IT and personal development work.  My business is called Lead The Life You Want To Lead and under this banner I sometimes do corporate time management training.

Currently I'm taking a marketing course which is helping me to get very specific with my offering and target market. I'm also planning some workshops and group coaching programmes for later in the year which will have the title Just Freaking Do It!  I'm already booked to give talks at three Mind Body Soul shows with this title.

Alongside developing the material for Just Freaking Do It I am also marketing a book that I wrote a couple of years ago.  It's called Don't Give Up Your Day Job and is about exactly what I'm doing - finding a way to keep the security of your pay cheque and scratching the itch of wanting to do something different.

On the IT side, I work on a contract basis at a healthcare company and do testing and development with PeopleSoft software. 

Before I escaped...
As a student I studied music (playing the flute and piano but not at the same time) but my only career options were being a classroom music teacher or an unemployed flute player.  None of these appealed so I took the advice of the university careers service and applied to be a trainee chartered accountant (yes really!) I trained with Deloittes, then went into investment banking (Credit Suisse and SBC Warburg) and then by a circuitous route to IT (where I have worked at Deutsche Bank, Glaxo, P&O, BDO Stoy Hayward among others).  
Being a creative person I always felt like a square peg in a round hole.  I did take some time out at one point to be more creative but got lured back to banking by the money.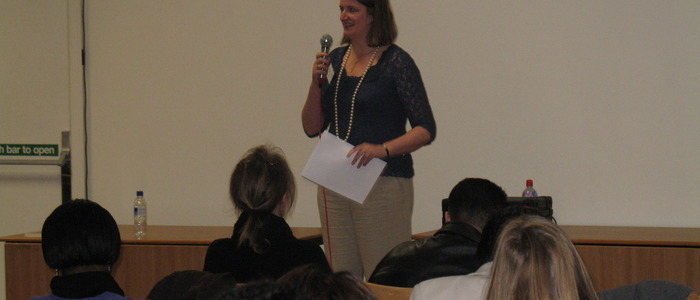 My moment of truth...
I was always interested in personal development and whenever I went to a workshop or a seminar I always got the feeling that presenting inspiring and motivational talks would be my dream job.  But it seemed such an impossible goal. What did I have to say and who would come and listen to me?
A few years ago a long term IT contract finished and it was one of those moments where I had to take the plunge, or never do it.  I made the declaration that I didn't have a clue how but I was going to do my 'speaking thing'. 
Planning for it...
Prior to that point I had already started working part-time in IT and had been spending time writing a novel. So in some ways I had already made a bit of a break and had experimented with developing a creative practice based on something which was very close to my heart.

I trained to be a life coach once my IT work had finished. I'm really glad I did this as it gave me a method of how to work with people one to one and also how to develop my material.

In terms of money I was lucky that I had built up some savings.  Throughout my working life I have always sought to keep debts and outgoings low and savings high so that if I needed to escape at any time, I was in a position to do so.
The worst and best bits...
The best thing has been making my dreams come true.  For instance, when I gave my first workshop where people paid to see me, when I gave a lecture at a big Mind Body Soul exhibition at London Olympia and when I launched my book at Waterstones Piccadilly.  All of these things were a long time in the making (it took years from first having those particular dreams to actually making them happen) but it sure is sweet when you tick once impossible goals off the list!

The worst was generating enough income from personal development work alone, and getting bums on seats at events. I got clients quite easily in the early days but, as is common for coaches and people in alternative therapies, I pulling enough money for the effort I was making.  I guess the lowest point was when I realised I had to go back into a part-time IT contract.  At the time I felt a complete failure but these days I enjoy have some steady, easy bread and butter cash coming in alongside my Lead The Life business.
Best advice...
Self acceptance not self improvement. We can get very caught up in thinking we are not good enough, comparing ourselves to others  and thrashing ourselves with the stick of 'must be a better person, earn more, do more, overcome my negetivity' etc.  When we accept ourselves, warts n all, life is much happier.  We can still learn to do the things we are not good at - or pay someone else to do them for us!

If you are thinking of going into coaching then I would definitely recommend you do a life coaching diploma.  While life coaching is un-licenced so anyone can call themselves a coach, it is good to learn the proper skills and have different methodologies at your finger tips.

What do I wish I had known before I made the leap? How hard it would be to get bums on seats and also how hard it can be when you are working for yourself by yourself. Do I have any regrets though? No.  Would I do it again? Absolutely!
Useful resources and information...
For many years I have been a big fan of Nick Williams who gives talks about finding meaning in work.  He currently runs the Inspired Entrepreneurs club which can be found at www.inspired-entrepreneurs.com.  There are regular talks about setting up your own inspired business and also a great community of people who are doing just that.