Kenya's 'untapped gold mine of opportunity'
After 10 years in London, Jessica decided it was her time to shine, so signed up for a 6 month break volunteering in Africa to take a time-out and come up with her big idea... little did she know, by booking that flight... she had already found it. 
Currently...
I am running http://www.integritour.com" rel="nofollow">Integritour, the first responsible tour company in Western Kenya, a region traditionally off the tourist map.
Before I escaped...
I was a business development and partnerships manager for a dot com in London and had worked within online marketing, partnerships and sales for the last 10 years at various high-growth (and high-tension) start-ups run by other people within London.
I figured it was probably 'about my time'. But if I'm honest, Africa wasn't supposed to be THE idea - it was just supposed to be a 6 month break volunteering to help me think about THE idea.
Once the travel concept for Western Kenya came, however, I realised that through its success, I could give back much more to Africa than a few months of my time on teaching or community projects.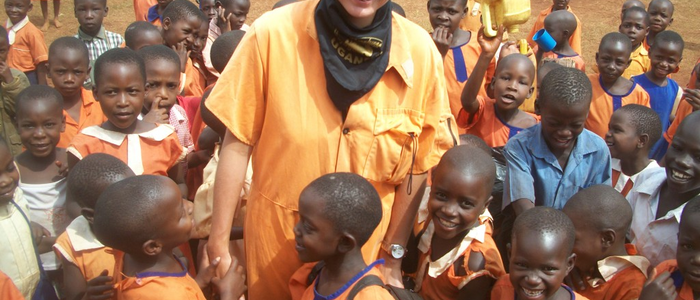 My moment of truth...
Weekend one in Kisumu, Kenya, standing on top of a mountain overlooking the second largest freshwater lake in the world and miles and miles of sugar cane and rice plantations, I thought 'how the hell does no one know about this place!?'.
I'm not exactly sure why I hadn't bitten the bullet and started something of my own before, but I think it was a combination of fear of the unknown, of failure and probably giving up my comfortable, safe standard of living.
But living in such a poor corner of Africa and experiencing such shockingly different conditions, plus all the tragedy, hope and basic necessity that comes with it, has fundamentally altered my perspective on life and shot all of those fears out of the water.
Planning for it...
I had 6 months in Africa, effecitively 'out' working on the business plan, developing my product range, finding good people, networking myself and working on branding and marketing concepts. Africa is, of course, a cheap place to do that and it meant I could go from concept to product launch within only 4 months.
As a predominantly marketing and service-led concept, the start-up barriers and costs have been low for the local marketing phase, and it's only now that I'm embarking on national and international marketing that I'm starting to plough through my meagre savings.
But living on a shoestring doesn't hurt as much as I thought it would, after leaving behind my faster lifestyle; because a) i'm loving my work and b) I'm building something that I hope will be worth so much more in the long term.
Next phase: investor pitches and a business partner-hunt.
I would certainly like someone with complimentary skills to share the next phase of http://www.integritour.com/" rel="nofollow">Integritour's growth to broaden the brand outside of just Kenya and grow it into a modern philosphy for global travel. 
Best advice...
The only thing worth investing in is memories. Jump and a net will find you.
My biggest revelation was that by removing myself from London and all the peer-comparison and status-anxiety that a city of professional high-achievers generates, and spending some quality time with my own thoughts and ideas in a place that so totally knocks off the london 'blinkers', you question how narrowly you lived before....
I'm far, far from 'making it' in this career choice, but I'm a lot happier and closer to making 'something' of myself than I was in my 9-6.
Useful resources and information...
I'm a bit of a junkie for inspirational business tales and entrepreneur stories. I like http://www.smarta.com/" rel="nofollow">www.smarta.com for some of that stuff and the more practical advice they offer entrepreneurs.