From Canary Wharf to the African bush
Francesca quit her Account Management job in advertising in August 2010, to be a full time artist, specialising in painting East African wildlife. She set off to Tanzania and Kenya in 2010, to camp out in the wild, and sketch everything around her, and hasn't looked back.
How I can help Esc members
I'd be happy to chat to anyone if they thought I might have relevant advice for what they are doing. 
Currently...
I held my first solo exhibition in London in December 2011, based on my travels in East Africa. I'm now planning my next trip out, leaving in March.
I divide my time between Africa and my studio in London. My work is mostly oil on canvas and sketches of the wildlife and landscape.
I tend to go out to Africa for a month or two at a time. Most days are spent driving or walking in the bush to find wildlife, which I then sit and sketch for hours. I work on bigger pieces and commissions in my studio in the UK.

My daily to do list tends to have things such as 'oryx second layer, redo elephant bottom' etc.
Alongside painting, lots of time goes into finding partners to work with, and arranging exhibitions of my work.
Before I escaped...
I was an account manager for an advertising agency for about 5 years. I worked with some great people, but I didn't really fancy my boss's job, and I could see myself growing complacent.

I had always wanted to set up my own thing.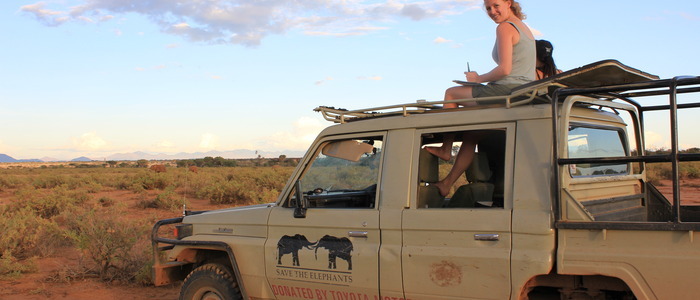 My moment of truth...
There wasn't really a moment, more a slow realisation that if I wanted to do the things I talked about doing in the pub, I better get on with it whilst I still had the energy to get out of bed each morning and make it work.
Planning for it...
I didn't really. I have always wanted to do my own thing.

I saved up some 'escape' money whilst working in London. The job didn't pay very well, so that took me a good 5 years.

Then I gave myself a year to gamble the money, and try to make it work. I spent it all on my trip to Africa, and paying for the exhibition. Luckily it went well, and I've gone on from there.
The worst and best bits...
The worst bit is the self promotion. There's nothing I like less than blowing my own trumpet. Worth it for the good parts though.
The best bits are really good. I get to work in the most beautiful, exciting places. If I don't want to work on a Monday morning, I don't have to. I can choose my hours.

And Mondays aren't what they used to be. On a recent one, my van got stuck in a significant amount of mud. 16 Samburu warriors cheerily helped me out of it, while elephants about 20 metres away looked on. That beats sitting in a meeting, going over a status report.

I have met the most humbling and admirable people. And I get to study and learn new things every day. I never sit at a desk, bored. Ever. (Well, perhaps excepting the filing of my tax return).
Best advice...
You deserve to be happy.
Useful resources and information...
The British Library Business and IP Centre – a great pool of knowledge, and mentors that give good advice. 
Louise Pragnell- a hugely talented portrait artist and friend. I frequently call her up for advice on all things from exhibition venues to varnish types.
Helen Benton, http://www.hownowmarketing.com/">How Now Marketing- another greatly talented friend who gives excellent, pithy marketing advice for brands, and advice to me in general.
I would also say it is really worth calling up people in your industry that do their work well, even if you are a direct competitor to them. I was surprised by how willing people were to talk to me and give me advice.