Marketing couple started a new life in the mountains
Zsofia Kapolnas and Gergo Babos escaped the advertising and marketing world and moved to a mountain village in Tyrol with 500 habitants, 1550m above sea level, and started running their own http://www.pensiontrofana.com/" rel="nofollow">guesthouse.  
How I can help Esc members
If anyone is interested in this field, we are happy to answer any questions.
Currently...
We prepare breakfast every morning for our guests, speak with them a lot, clean the rooms, arrange bookings, make deals with travel agencies, build out connections with local people and companies, promote our guesthouse, provide dinner for our guests, run the bar of the guesthouse and play bowling in our bar if we have time for that :)
Before I escaped...
We both worked in advertising for 8 years, where we worked on TV, radio, press, billboard, citylight and internet advertising campaigns for big multinational companies such as Coca Cola, Heineken, Gösser, Nestle, and British American Tobacco. 
It was an interesting job for a few years and we had great company at the agencies (with lots of creative minds), however we realized it became too monotonous after a while and we hardly had a private life, leaving home at 8am and getting home between 7-9pm. 
Then finally we decided that we wanted to go on our way; to do our own business, live in a much healthier environment and have time to enjoy our private life too.
My moment of truth...
We started discussing how and where we would like to live 2 years ago. We do not remember how we came up with this idea but we both knew we did not want to stay in the multinational environment.
I loved climbing and mountains, and Zsofi was interested in the restaurant and hotel industry thanks to her family background, so somehow we reached the point where we agreed we should do this. 
Honestly, it is still hard to believe that we actually took this step; every week we have moments when we realize "wow, we are here"!
Planning for it...
So 2 years ago we started planing.
Last summer we spent weeks in Tyrol to find the perfect valley and hotel - we found this place and started negotiating with the owner. As it was high season for him, he had no time for us and the negotiation went pretty slowly.
So we decided to wait and start arranging the background: find a lawyer and tax consultant, attend cooking courses, and arrange paperwork etc.
In January we got in touch with the owner again and luckily the hotel was still free, so we re-started the negotiation and in May we signed the contract for 2 years.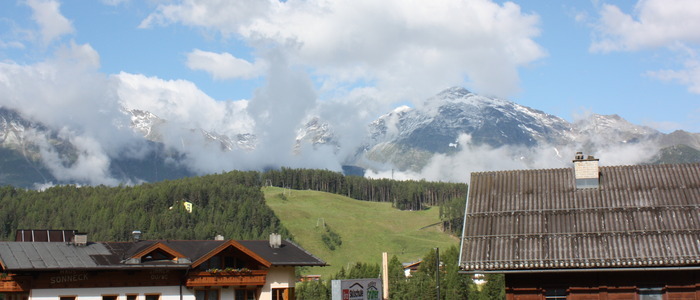 The worst and best bits...
We felt a lot of stress and insecurity when we first moved. We needed to start a totally new life and also deal with the guests and arrange all the administration and permissions. It was hard to deal these many different things without any help but it was great to solve them finally :) 
It is a great feeling to do everything for our own business and see the results; such as happy guests with hugs before they leave, seeing our ads (which we made for ourselves), and organizing press trips for our own hotel.
Best advice...
As it was a big step for both of us, the best advice we got was to be sure that both of us wanted it on the same level.
As it is not guaranteed that this business will run well (i.e. we could loose all our savings pretty fast), we needed to be sure that both of us understood the importance of this decision so that neither of us would blame the other if it goes wrong. 
Our best advice: do not be afraid - you could lose money... but also your dreams could come true :)
Useful resources and information...
We both thought that it was important to get the right answers from specialists. Although it is not cheap, you can lose more if you do not spend it on the right partners. So we took advice from specialists, including a lawyer and tax consultant.
If someone needs any connections, we are happy to provide them.