Danny in Wonderland - From Mayfair to Southern India
"You are mad, bonkers, off your head. But I tell you a secret, all the best people are." Alice In Wonderland – Lewis Carroll
How I can help Esc members
My new charity organises short trips to remote parts of the world for adventures beyond your wildest dreams. It involves raising some sponsor money but whilst on your trip you will see how this money is being put to good use as you cycle, climb, run, fly by. Email me on dannyjbent@gmail.com" title="">dannyjbent@gmail.com.
Currently...
I just completed a 9000mile cycle journey from London to Southern India. I thought it would be rude to not write a book after being chased by wild dogs, held at gun point, beaten by the mafia, attacked by a cobra, being woken in the night lying next to a leopard, living in a slum, and finding maggots in my hair and beard.
(ADDITIONAL NOTE - it is now available from my website )
The book is called You've gone too far this time, Sir. I've put 10 publishing firms and agents in a ring and am allowing them to fight for the publishing rights. If you know of anyone else who might be interested then I'm happy to throw them in too - but be warned it's getting nasty in there (read: hair pulling and eyeball gouging).
I've also set up a charity and cycle team to help empower and educate children. It's called Velo Love. We are looking to raise money through adventure tourism.
Before I escaped...
I worked in Mayfair for a trading company. I would make the same journey to work each day at the same time, sit at my desk staring at a screen for 8 to12 hours and then would retrace my steps home and to bed.
After making my decision to escape the city I became a junior school teacher which opened my eyes to the beauty of life and made me decide to grab it with both hands and ride it until the conductor told me my turn was over. I cycled the Thames towpath to school where I'd be greeted by thirty happy smiling faces all longing for the education I had been graced to give them.
I guess I wasn't your stereotypical teacher. I didn't tell the kids off, I didn't use a marker pen and a white board, didn't dress in tweed with arm pads. I drank juice not tea, hung out in the playground not the staff room, ran in corridors, played pranks on other teachers. I was affectionately known as the "naughty kid at school"
I would always get put in the box classroom far away from everyone else to avoid disruption. Be it throwing paint at a teacher in art, dressing in helmets and harnesses and climbing trees in maths, or creating plasticine stop frame animations in science. I wanted my classroom to be alive. Not just a buzz, or a heartbeat. I liked the tiles on the roof to be vibrating, some days I even liked to try and blow the roof clean off (I got into trouble for that one). I was one of the pupils and they were all teachers. Their knowledge and ideas were as valuable as mine.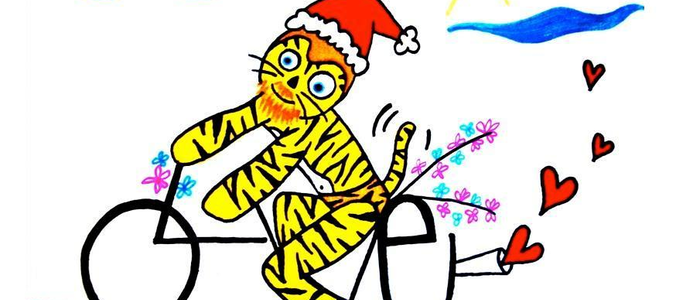 My moment of truth...
I think we all have our dreams from childhood. When I was 11, during a junior school leavers' assembly in front of all the mums and dads, my headmistress asked my class what they wanted to do when they left school. Footballer, doctor, film star, politician, came the replies. My answer? "I want to cycle round the world and raise money for charity." A big "ahhhhh" resounded around the school hall. "So sweet."
Little did they know that 20 years later I would be setting off on a 9,000-mile journey to India. On my own. Carrying everything I needed on my steel-framed bicycle, affectionately known as 'Shirley'.
Planning for it...
I'd like to say everything was meticulously planned - with the route engrained on my mind after pouring over maps into the night with only a cigar and a brandy to keep me company. Knowledge of the history, the culture, the languages of each country I would cycle through saturating my grey matter.
Erecting my tent time and again whilst timing myself until I could do it blind folded. Spending days elbow-deep in grease, taking my bike and equipment to pieces and putting it back together again so I knew exactly how each and every bit should be used.
However, every night until the end of term I had activities on. An open evening for new parents, class performances, orchestra, sports days, cross country club, drama club. I had no time to plan anything…. so I didn't…
The worst and best bits...
The worst thing initially was worrying about money.
The best thing was a realisation in the Slum in Mumbai surrounded by smiles and laughter that I never needed to worry about money again. Happiness was the commodity I needed to quantify.
Best advice...
"You are mad, bonkers, off your head. But I tell you a secret, all the best people are." Alice In Wonderland – Lewis Carroll
Useful resources and information...
The common man on the street holds most of the answers. When you start following your heart the world responds and you can come across the solution to your problem at a bus stop, or waiting for a seat at a restaurant, or helping an old lady across the road.
It does help if you have wonderful sponsors such as Cotswolds, Bicycle in Richmond, Nakd, and Tough Stuff behind you!!